News
Goodby and Good Luck to Dr. Isnor
February 13, 2020
At the end of February 2020, we are bidding farewell to Dr. Kristin Isnor, who is moving from clinical practice to government work in order to spend more time with her family. Dr. Isnor will miss surgery, puppy snuggles, and and collaborating with owners to give their pets the best and healthiest lives possible. She'll also miss working with her Greenbank and Village of Manotick coworkers!
Soft Coated Wheaten Clinic THURSDAY MARCH 19, 4-8 pm
February 10, 2020
Owners of Soft Coated Wheaten Terriers should be aware of this breed's risk for certain diseases. These include kidney and intestinal diseases which can result in protein loss as well as Addison's disease which causes electrolyte abnormalities. Early detection of these conditions is important since all are life threatening when not controlled. There is now a test for genetic markers. Early detection of these conditions is important since all are life threatening when not controlled. Annual screening allowing for early detection is highly recommended since early intervention is critical to changing the course of these diseases. We can improve both life span and quality of life associated with PLE and PLN if caught early enough. Early intervention is critical to changing the course of these diseases.
For our clients who have pets who are up to date in their vaccines we are offering discounted annual screening and monitoring of these conditions at our Wheaten Testing Clinic. A heartworm/tick borne disease test can also be added at a special discounted price. This year Dr. WIllis will be running the clinic on Thursday March 19th, 2019 from 4-8pm at Greenbank Animal Hospital.
PLEASE NOTE THAT THE URINE TEST IS NON-REFUNDABLE AND THE SAMPLE MUST BE SUBMITTED WITHIN 1 MONTH OF THE BLOOD SAMPLE
FEBRUARY IS DENTAL MONTH
December 09, 2019
Does my pet need routine dental care?
February is dental awareness month. According to the American Veterinary Dental Society more than 80% of dogs and 70% of cats have dental disease by 3 years of age. Good dental hygiene increases your pet's life span and improves his/her quality of life! Plaque and tartar harbour the bacteria that lead to infections not only in the mouth, but also in the heart, kidneys, and liver. Daily brushing of your pet's teeth combined with regular professional cleaning by your veterinarian is your pet's best defence.
Our regular clients that are up to date on their annual examination and vaccines are welcome to book a complimentary dental examination to get an estimate for the cost of a dental procedure. During the month of February we offer a 10% discount to our clients for dental procedures including cleaning and any necessary extractions. Please call now to book you complimentary assessment.
FALL TICK BLOOM
November 14, 2019
Fall is here, which means we heading into another tick bloom!
Ticks are more and more a concern in the Ottawa area. Statistics show that tick numbers are increasing every year. There are several prescription medications available to help defend you pet against these pests. Also, be aware that the tick season in Ottawa is longer than the heartworm season. There is a "bloom" of ticks in April/May and again in October/November. Pets being exposed to ticks should be protected from early April through December. We offer products that repel ticks and kill the ticks directly, aiding in the prevention of the spread of diseases such as Lyme disease.
We all know that ticks can carry diseases such as Lyme disease that is difficult to detect, but can profoundly affect the lives of our pets. Along with increasing tick numbers, as you would expect, we are also seeing a rise in the number of Lyme disease cases. At our clinic we recommend the 4dx test which tests for heartworm disease as well as screens for Lyme and other tick borne diseases. The earlier we diagnose and treat Lyme disease, the better our chances of producing a good outcome for our canine companions.
Goodbye And Good Luck Dr. Sharon Zhang - We Will Miss You!
July 21, 2019
We are sad to report that Dr. Sharon Zhang is leaving our team. Dr. Zhang's fiancee has been accepted to a master's program in Toronto and therefore they will be moving away as of the end of July. Our staff and clients alike will miss her very much. Good luck Dr. Zhang, the pets of people of Toronto will be lucky to have you!
A special message from Dr. Zhang - "It's been a privilege to be a part of the Greenbank Animal Hospital and Village Of Manotick Animal Hospital's team and I would like to thank everyone who made my time here so special. It is bittersweet to be moving back to Toronto but I am glad to have met so many wonderful pets and people in the Barrhaven and Manotick communities."
The FDA releases list of BRANDS OF FOOD that may cause DCM
June 28, 2019
Over the years, "grain free" pet foods have become increasingly popular among pet owners. It has been suspected that SOME foods that are typically marketed as "grain free" may be associated with the development of DILATED CARDIOMYOPATHY (DCM) in dogs, even in dog breeds that are not typically affected by this disease.
DCM is a disease of the heart muscle that eventually leads to heart failure and death. The definitive cause of canine DCM is the subject of debate, although a number of factors including nutritional, infectious, and genetic predisposition have been implicated. Breeds predisposed to DCM include the Doberman Pinscher, the Great Dane, the Boxer, and the Cocker Spaniel. Dietary carnitine deficiency may play a role in some cases of Boxer DCM, and taurine responsive DCM has been identified in Cocker Spaniels.
The FDA is continuing to investigate and recently released a report listing the brands of food that have been implicated. If your pet is showing possible signs of DCM or other heart conditions, including decreased energy, coughing, laboured breathing and episodes of collapse, you should contact your veterinarian as soon as possible. If the symptoms are severe and your veterinarian is not available, you may need to seek emergency veterinary care.
https://www.fda.gov/animal-veterinary/news-events/fda-investigation-potential-link-between-certain-diets-and-canine-dilated-cardiomyopathy
Announcing Dr. Mark Rowett's Retirement 2019
March 15, 2019
Dr. Mark Rowett has officially retired. While we are happy for him to enter this new exciting phase of life, we are all very sad that we won't be working alongside him anymore. Dr. Rowett is an excellent veterinarian who was always kind, honest, and compassionate with clients and their pets. Please join us in thanking Dr. Rowett for his many years of excellent service and wishing him all the best in the future.
The "flu shot" for dogs???
February 09, 2018
The canine influenza virus is a type of influenza that is adapted to dogs. The H3N2 influenza virus is believed to have originated in Asia and suspected to have been introduced to the US in 2015 through importation of dogs from South Korea. This virus has spread throughout the US and has caused regional outbreaks.
H3N2 was first identified in Canada is southwestern Ontario in late December 2017. It causes upper respiratory disease that is indistinguishable from other causes of infectious respiratory disease (kennel cough). While dogs of any age and breed can be affected, this disease is more likely to be severe in very young and old dogs as well as brachycephalic breeds (ie: pugs, bulldogs, boston terriers).
The main symptoms include coughing, sneezing, discharge from the eyes and nose, decreased appetite, and fever. Most dogs fully recover within 2 to 3 weeks however some dogs may get secondary bacterial bronchitis or pneumonia. Fatal infections are rare but can occur.
Treatment is supportive. Antibiotics are not used unless a secondary bacterial component develops.
Commercial vaccines are available for both H3N8 and H3N2 flu viruses. The vaccine is not 100% effective but can reduce the risk and severity of disease. The vaccine is administered in 2 doses, 2 to 4 weeks apart.
WHICH DOGS NEED THE FLU VACCINE?
The flu vaccine is recommended for dogs that are travelling in the USA or Asia or dogs that may be exposed to other dogs imported from the USA or Asia.
Otherwise, vaccination may be useful for dogs likely to have increased exposure to other dogs from a wide geographical range, such as those dogs that participate in dogs shows or other competitions. It may also be considered in dogs that are predisposed to complications from the flu, including elderly dogs, those with heart or lung problems already, or brachycephalic breeds.
We are currently carrying the "flu vaccine" for dogs that are at risk. Give us a call if you think your dog might be at risk.
JOIN OUR WEIGHT LOSS CLUB FOR DOGS AND CATS
February 24, 2016
Greenbank Animal Hospital created the Weight Loss Club, a new weight loss program designed especially for your pet. As a member of this club you and your pet will be working closely with our professional team to ensure a successful and healthy journey to weight reduction.
It's Hard to ignore that unfortunately, our pets are becoming more "big boned" or "a little chunky". This extra weight on your pet's smaller frame is a direct cause of low grade chronic inflammation in the body. In other words, your pet's joints are becoming more arthritic. In addition, there are many other diseases and issues associated with overweight/obese pets such as: heart disease, diabetes, depression, high blood pressure, and skin infections. As little as 10% weight gain can result in reduced health and shorter lifespan.
With the Weight Loss Club we can help your pet live a healthier, happier, and longer life. Diets have been designed to suit your pet's nutritional needs as well as helping them feel fuller longer. The club gives you one on one access to our professional and knowledgeable team with FREE sign up, incentives such as FREE food and helpful tips for success. Please join us and make an important difference in the life of your companion!
Happy Retirement & Best Wishes Dr. James
January 2013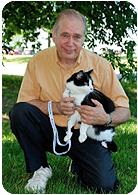 Dr. Lee James has officially retired as of January 2013.
Dr. James opened the Greenbank Animal Hospital back in 1977. He started his career doing large animal and small animal medicine and surgery, then switched to small animals exclusively. Throughout his career, Dr. James developed excellent surgical skills and performed many specialized surgeries, saving the lives of countless beloved pets. He has also been a great mentor to many new graduate veterinarians.
Dr. James will be sorely missed by all of our staff and clients. We hope that he enjoys his retirement - spending time at the cottage, traveling, and spoiling all his little granddaughters.