News
COVID procedures and NEW CLIENTS NOW WELCOME
November 25, 2022
At this point masks are optional for both our clients and our staff. Please come ahead inside for your in person appointment or to pick up medication or food. If you prefer, we are still happy to continue curbside service and appointments - simply call us and let us know what we can do to help you.
We are also happy to announce that as we have been able to increase our staffing, we can now accept new clients!
UPDATED COVID PROTOCOLS AND MISSED APPOINTMENT FEES
April 08, 2021
With the latest announcements yesterday, we need to re-adjust our policies to follow the guidelines given by the government. As of today, we will have to go back to having our reception area closed to the public.
For picking up anything for your pet (food, medication, supplements etc) we request that you contact us in advance to have your order prepared and set aside. At this time we will take credit card payment over the phone. When you are ready to come to the clinic to pick up your order, please call the clinic on arrival and a receptionist will bring your pet's items outside for you to pick up.
As this change will result in higher calls volumes, we do ask that anything that is non-urgent (including order requests) please feel free to contact us via email at greenbankanimalhosp@gmail.com for our Greenbank location or villageofmanotickah@gmail.com for our Manotick location. It may take up 24-48 hours to respond, but we promise we are checking them routinely!
We have thankfully not been restricted in the kind of procedures we can perform, so all our routine appointments can continue as scheduled in curbside format. As usual please show up in the parking lot at your pet's scheduled appointment time. We will go back to doing all payments via credit card over the phone after the appointment.
If an appointment is cancelled within 24 hours of the appointment time, or the appointment is missed without notice there will be a charge of $50. If a surgery is cancelled with less than 2 business days there will be a charge of $100. THIS WILL BE EFFECTIVE STARTING APRIL 5, 2021
The FDA releases list of BRANDS OF FOOD that may cause DCM
June 28, 2019
Over the years, "grain free" pet foods have become increasingly popular among pet owners. It has been suspected that SOME foods that are typically marketed as "grain free" may be associated with the development of DILATED CARDIOMYOPATHY (DCM) in dogs, even in dog breeds that are not typically affected by this disease.
DCM is a disease of the heart muscle that eventually leads to heart failure and death. The definitive cause of canine DCM is the subject of debate, although a number of factors including nutritional, infectious, and genetic predisposition have been implicated. Breeds predisposed to DCM include the Doberman Pinscher, the Great Dane, the Boxer, and the Cocker Spaniel. Dietary carnitine deficiency may play a role in some cases of Boxer DCM, and taurine responsive DCM has been identified in Cocker Spaniels.
The FDA is continuing to investigate and recently released a report listing the brands of food that have been implicated. If your pet is showing possible signs of DCM or other heart conditions, including decreased energy, coughing, laboured breathing and episodes of collapse, you should contact your veterinarian as soon as possible. If the symptoms are severe and your veterinarian is not available, you may need to seek emergency veterinary care.
https://www.fda.gov/animal-veterinary/news-events/fda-investigation-potential-link-between-certain-diets-and-canine-dilated-cardiomyopathy
Announcing Dr. Mark Rowett's Retirement 2019
March 15, 2019
Dr. Mark Rowett has officially retired. While we are happy for him to enter this new exciting phase of life, we are all very sad that we won't be working alongside him anymore. Dr. Rowett is an excellent veterinarian who was always kind, honest, and compassionate with clients and their pets. Please join us in thanking Dr. Rowett for his many years of excellent service and wishing him all the best in the future.
Happy Retirement & Best Wishes Dr. James
January 2013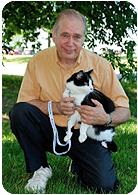 Dr. Lee James has officially retired as of January 2013.
Dr. James opened the Greenbank Animal Hospital back in 1977. He started his career doing large animal and small animal medicine and surgery, then switched to small animals exclusively. Throughout his career, Dr. James developed excellent surgical skills and performed many specialized surgeries, saving the lives of countless beloved pets. He has also been a great mentor to many new graduate veterinarians.
Dr. James will be sorely missed by all of our staff and clients. We hope that he enjoys his retirement - spending time at the cottage, traveling, and spoiling all his little granddaughters.