Hours & Emergencies
Emergencies
During hours
Call the clinic at the main telephone number if you have an emergency during office hours.
UPDATE: We are currently experiencing a significant increase in demand for medical and emergency attention for pets. At this time, we regret that we are only able to offer emergency services to those patients who are currently enrolled with us. Please be aware that you may be referred to an emergency clinic based on our availability. As emergency clinics also report increased demand for services, you may be referred to an emergency clinic outside the Ottawa area including Kingston or Montreal.
Village of Manotick Animal Hospital - (613) 692-2434
Greenbank Animal Hospital - (613) 825-2902
After hours
Call Ottawa Animal Emergency and Specialty Hospital at (613) 745-0123. They are open for emergencies 24 hours a day including weekends and holidays. The clinic is located at 1155 Lola Street in Ottawa. Please be aware that your pet can always be transferred back to Greenbank or Village of Manotick Animal Hospitals for continued care and/or surgery.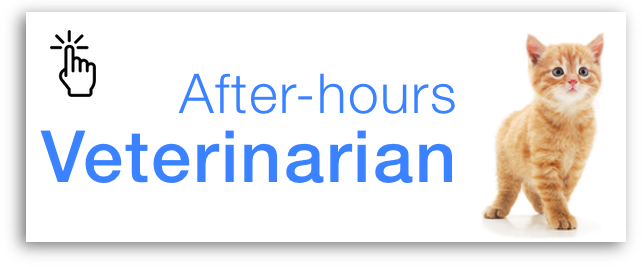 Due to the current shortage of veterinarians and emergency pet care, we have teamed up with Canadian veterinarian-led Smart.Vet which provides our clients access to Registered Veterinary Technicians (RVT) over the phone whenever our hospital is not open or we are not available to take your call.
These RVTs will speak with you to ascertain the level of care that your pet requires, and can facilitate scheduling an appointment with one of their licensed Ontario-based veterinarians. If your pet requires critical in-person intervention, the RVT will be able to determine this with you over the phone and will assist you by making arrangements for your pet to be transferred for physical care.
If you have any questions about this service, please contact Smart.Vet at info@smart.vet or visit their site at Smart.Vet.
Business Hours
| Weekday | Hours |
| --- | --- |
| Monday | 8:00 am to 6:00 pm |
| Tuesday | 8:00 am to 6:00 pm |
| Wednesday | 8:00 am to 7:00 pm |
| Thursday | 8:00 am to 6:00 pm |
| Friday | 8:00 am to 6:00 pm |
| Saturday | 9:00 am to 12:00 pm |
| Sunday | Closed |
Upcoming Holidays
| Holiday | Date | Hours |
| --- | --- | --- |
| | Friday December 23, 2022 | CLOSED EARLY 1pm due to storm |
| New Year's Day | Sunday January 1, 2023 | Closed |
| | Monday January 2, 2023 | Closed |
| Family Day | Monday February 20, 2023 | Closed |
| Good Friday | Friday April 7, 2023 | Closed |
| Victoria Day | Monday May 22, 2023 | Closed |
| Canada Day | Saturday July 1, 2023 | Closed |
| Civic Holiday | Monday August 7, 2023 | Closed |
| Labour Day | Monday September 4, 2023 | Closed |
| Thanksgiving Day | Monday October 9, 2023 | Closed |
| Halloween | Tuesday October 31, 2023 | Closed at 6pm |
| Christmas Eve | Sunday December 24, 2023 | Closed |
| Christmas Day | Monday December 25, 2023 | Closed |
| Boxing Day | Tuesday December 26, 2023 | Closed |
| New Year's Eve | Sunday December 31, 2023 | Closed |